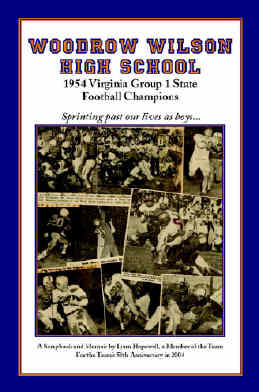 In the Fall of 1954, a group of young boys at Woodrow Wilson High School in Portsmouth, Va. won the Group I state championship. Lynn has published his large collection of newspaper clippings on the games.
The book is a tabloid size, hard-bound book with about 157 pages. It is a not-for-profit exercise and the finished book is offered at the cost of printing and mailing.
Book is now available. Contact Lynn for copies.
Only 100 copies printed. (Only 6 left as of January 20, 2006.)
Cost is $30 each including mailer and postage.
Click here to download sample (early draft) from book. Sample.
Click here to see team photos and order high-quality copies at cost: 1954 State Champions.
Click here to see September, 2004 photos from 50th reunion. 50th Reunion Photos