The Genealogy of the Lodowick Mathews Family of Gates County, North Carolina and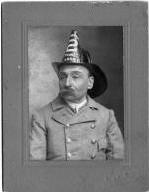 Portsmouth, Virginia.
The progenitor was Lodowick Mathews who married Barbara Smith. They had:
James William Mathews who married Mary Ann Amelia
Manning. He was a member of Portsmouth City Council and
Chief of Police. Her family owned much of St. Julians Creek
area. They had Mathew James Mathews. (See photo
to right. He is in his Chambers Fire Company uniform. Bigger
photo is on the Family Tree Maker web site below.)
Susan Maria Mathews who married John Edward Morris.
John and Susan are buried in Oak Grove Cemetery in
Portsmouth.
They all lived in and around Portsmouth, Virginia. There are many Mathews and Morris descendants there today.
See lots of new information and wonderful photos are located on a Family Tree Maker Site. Click on the following link to access that site: http://familytreemaker.genealogy.com/users/h/o/p/Lynn-Hopewell/index.html. It is loaded with research on Lodowick Mathews and his two children, as well as some 19th century photographs.
Also see Mathews Research page for updated research objectives.
Complete database of Mathews research to date. Includes family information and sources.
Genealogy chart of the Mathews family. Right click here to download the PDF format file (11Kb). This chart was created in the genealogy program: Family Tree Maker. You will have to cut and paste the printed pages together.
Descendants Chart. Below is a recent descendants report for Lodowick Mathews and Barbary Smith. You can print this page. Have we missed anyone?
Descendants of Lodowick Mathews
1 Lodowick Mathews b: Abt. 1790 d: Bet. 1836 - 1838
. +Barbary Smith b: 13 September 1794 d: 15 March 1867
...... 2 James William Mathews b: 1817 d: 15 November 1880
.......... +Mary Ann Amelia Manning b: September 1814 d: 4 April 1886
.............. 3 [2] Mathew James Mathews b: 14 November 1848 d: 28 January 1909
.................. +Martha Elizabeth "Mattie" Neaville b: 13 July 1851 d: 20 April 1882
...................... 4 Walter Neaville Mathews b: 5 August 1876 d: 20 November 1876
...................... 4 James William Mathews II b: 19 December 1877 d: 25 February 1928
.......................... +Mary Reata Cooke b: 12 August 1885 d: 1961
.............................. 5 Anna Marguerite Mathews b: 6 January 1908
.................................. +Ralph Sasser Hunt b: 10 August 1900 d: 14 December 1944
...................................... 6 Ann Marguerite Hunt b: 26 May 1930
.......................................... +Frank Joseph Urabeck Jr b: 2 January 1927
............................................... 7 Linda Ann Urabeck b: 22 May 1952
................................................... +Frank Anthony Walski b: 1950
....................................................... 8 David A. Walski b: 1972
....................................................... 8 Joseph A. Walski b: 1975
....................................................... 8 Karyn A. Walski b: 1979
............................................... 7 Catherine Ann Urabeck b: 1956
................................................... +James Vernon Culpepper II b: 1955
....................................................... 8 Jill Marie Culpepper b: 1982
............................................... 7 Frank Joseph Urabeck III b: 1965
................................................... +Carol Anne Kestner b: 1964
...................................... 6 Barbara Lee Hunt b: 9 May 1931
.......................................... +William Thomas Tevis b: 6 March 1924
............................................... 7 Sandra Lee Tevis b: 1955
................................................... +Jerry Stephens b: 1951
....................................................... 8 Jeffrey M. Stephens b: 1977
....................................................... 8 Brian A. Stephens b: 1981
............................................... 7 Robert Lynn Tevis b: 1955
................................................... +Christine Jones b: 1958
....................................................... 8 Robert C. Tevis b: 1980
............................................... 7 Leslie Carroll Tevis b: 1958
................................................... +Patricia Darlene Adams b: 1962
....................................................... 8 Amy L. Tevis b: 1981
............................................... 7 Brenda L. Tevis b: 1968
...................................... 6 Ralph Sasser Hunt Jr. b: 1941
.......................................... +Pattie Starr Sumpter b: 1944
............................................... 7 Ralph Sasser Hunt III b: 1967
.............................. 5 James William Mathews, Jr. b: 21 March 1910
.................................. +Rose Caroline Thornton b: 1911
...................................... 6 James Edward Mathews b: 1954
.............................. 5 Emily Francis Mathews b: 12 August 1918
.................................. +Harry Goodloe Galliday b: 1907
...................................... 6 [1] Francis Elizabeth Galliday b: 1943
.......................................... +William Nealis
............................................... 7 Deborah A. Nealis b: 1965
................................................... +Danny Galen Penick
....................................................... 8 Danny Galen Penick, Jr. b: 1985
...................................... *2nd Husband of [1] Francis Elizabeth Galliday:
.......................................... +William Henry Clemments b: 1943
...................................... 6 Patricia Ann Galliday b: 1950
.......................................... +Stanley Clinton Leppert b: 1945
.............................. 5 John William Mathews b: 21 July 1918
.................................. +Ottilie H. Weitzel b: 1920 d: 1973
...................................... 6 Virginia Mary Mathews b: 1944
.......................................... +Max Jenne b: 1944 d: 1976
............................................... 7 Heid Jenne b: 1966
............................................... 7 Eric Jenne b: 1967
............................................... 7 Christine Jenne b: 1972
...................................... 6 Russell Charles Mathews b: 1945
.......................................... +Janet A. Carlson b: 1949
............................................... 7 Michelle J. Mathews b: 1969
............................................... 7 Jeffery C. Mathews b: 1973
............................................... 7 Jennifer L. Mathews b: 1977
...................... 4 Edwin Elvington Mathews b: 30 January 1880 d: 18 December 1931
.......................... +Laura Edwina Powers b: 3 February 1883 d: 27 October 1919
.............................. 5 Edwin Elvington Mathews, Jr. b: 4 September 1904 d: 3 September 1990
.................................. +Margaret Virginius Hanrahan b: 31 August 1909 d: 11 August 1997
.............................. 5 Mary Elizabeth Mathews b: 18 June 1912
.................................. +Alford Walker Torrence b: 24 November 1909 d: 23 April 1996
...................................... 6 Alfred Walker Torrence, Jr. b: 10 September 1947
.......................................... +Jeanne Suprenant b: 26 July 1947
............................................... 7 Matthew Charles Torrence b: 31 October 1973
............................................... 7 Ryan Gregory Torrence b: 11 December 1980
...................................... 6 Carol Ann Torrence b: 9 December 1950
.......................................... +Joseph Michael Talone, Jr b: 27 September 1948
............................................... 7 Jennifer Ann Talone b: 25 July 1974
............................................... 7 Jeffery Michael Talone b: 16 May 1978
.............................. 5 Margaret Helen Mathews b: 14 October 1919 d: 31 January 1971
.................................. +Ernest Tatem Snow
.............. *2nd Wife of [2] Mathew James Mathews:
.................. +Susan Payne Jones b: 8 April 1854 d: 13 March 1909
...................... 4 Mary Lucy Mathews b: 23 June 1888 d: 25 February 1890
...................... 4 [4] Seth Waters Mathews b: 5 June 1890 d: 5 October 1949
.......................... +Nance Goodwin Hart b: 11 January 1884 d: 15 September 1936
.............................. 5 Isabell Payne Mathews b: 9 January 1916 d: 1998
.................................. +Fred Adwell Boze b: 5 October 1909 d: 19 May 1982
...................................... 6 [3] Fred Adwell Boze III b: 28 February 1946
.......................................... +Linda Carol Jones b: 20 October 1953
...................................... *2nd Wife of [3] Fred Adwell Boze III:
.......................................... +Susan Seagel Stevens b: 3 February 1946
............................................... 7 Carolyn Elizabeth Boze b: 14 September 1977
...................... *2nd Wife of [4] Seth Waters Mathews:
.......................... +Helen Land Simpson b: 6 April 1901 d: 16 July 1999
.............................. 5 James Simpson Mathews b: 9 June 1941
.................................. +Melissa Kinsey b: 1 June 1937
...................................... 6 Anne Helen Mathews b: 26 February 1972
...................................... 6 James Simpson Mathews, Jr. b: 12 April 1974
...................................... 6 Melissa Wilson Mathews b: 12 April 1974
...................... 4 Mathew Stewart Mathews b: 18 November 1893 d: 7 August 1974
.......................... +Jessie Ross Pedigo b: 5 June 1888 d: 1984
.............................. 5 Charlotte Ross Mathews b: 6 November 1914
.................................. +Harry Lynn Hopewell b: 10 October 1910 d: 26 November 1988
...................................... 6 [5] Harry Lynn Hopewell, Jr b: 19 December 1937
.......................................... +Carolyn Jean Lawrence b: 5 July 1939
............................................... 7 Harry Lynn Hopewell III b: 20 May 1956
................................................... +Jacqueline Ann-Noelle Nantier b: 30 September 1958
....................................................... 8 Robert Lynn Hopewell b: 8 March 1988
............................................... 7 Frank Mathew Hopewell b: 19 December 1958
................................................... +Christy Bosone
....................................................... 8 Courtney Ross Hopewell b: 4 January 1985
...................................... *2nd Wife of [5] Harry Lynn Hopewell, Jr:
.......................................... +Leslie Ann Lindsay b: 2 September 1944
............................................... 7 Stewart Lindsay Hopewell b: 28 September 1979
...................................... 6 [6] Robert Stewart Hopewell b: 8 November 1941
.......................................... +Shirley Ray Rogers
............................................... 7 Robert Stewart Hopewell Jr
............................................... 7 John Lynn Hopewell
...................................... *2nd Wife of [6] Robert Stewart Hopewell:
.......................................... +Mary Dorothy Chambers b: 12 August 1948
............................................... 7 David Chambers Hopewell b: 18 June 1985
...................................... 6 Lou Ross Hopewell b: 5 September 1945
...................................... 6 [7] Charlotte Nina Hopewell b: 10 November 1947
.......................................... +Marvin Grey Barnes b: 8 October 1946
............................................... 7 Marvin Grey Barnes, Jr. b: 9 January 1970
............................................... 7 Rachel Ross Barnes b: 11 July 1974
...................................... *2nd Husband of [7] Charlotte Nina Hopewell:
.......................................... +Richard Lodge
.............................. 5 Mathew Stewart Mathews, Jr. b: 10 March 1917 , d: 9 June 2002
.................................. +Mary Sophia Silber b: 22 June 1916 d: 3 May 1975
...................................... 6 [8] Mathew Stewart "Trey" Mathews III b: 1 August 1944
.......................................... +Mary Alice Macon b: 31 October 1950
............................................... 7 Marvin Luke "Luke" Mathews b: 18 February 1968
...................................... *2nd Wife of [8] Mathew Stewart "Trey" Mathews III:
.......................................... +Justina Faye Marcos b: 14 March 1950
............................................... 7 Sean Eric Mathews b: 27 May 1981
............................................... 7 Ross Ian Mathews b: 4 December 1982
............................................... 7 Brittany Joy Mathews b: 1 May 1987
...................................... 6 Richard Ernest Mathews b: 25 September 1945
.......................................... +Charlean Verhaagen b: 27 May 1952
............................................... 7 Cody Haagen Mathews b: 24 August 1985
...................................... 6 Reed Silber Mathews b: 12 June 1949
.......................................... +Anne C. McCormack b: 23 December 1952
............................................... 7 Conor Clark Mathews b: 25 December 1987
...................................... 6 Linden Ross Mathews b: 7 September 1952
.......................................... +James Sheldon Boone. Jr b: 11 May 1950
............................................... 7 Scott Thomas Boone b: 28 August 1985
............................................... 7 Peggy Ross Boone b: 22 June 1988
...................................... 6 Keith Dana Mathews b: 13 August 1953
.......................................... +Maureen Miller "Nickie" Nixon b: 22 June 1951
...................................... 6 Craig Darryl Mathews b: 13 August 1953
.......................................... +Susan Kay Hewitt b: 28 July 1951
............................................... 7 Brenton Gage Mathews b: 25 January 1983
............................................... 7 Derrick Silber Mathews b: 5 September 1987
...... 2 Maria Susan Mathews b: 5 December 1825 d: 24 October 1873
.......... +John Edward Morris b: 7 August 1825 d: 22 August 1893